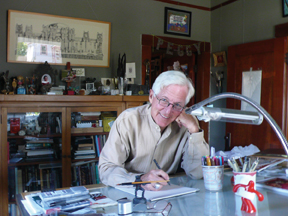 I love to draw. Fancy things. Architecture and fantasy. Decorative and detailed. I worked for 29 years in Los Angeles and Hollywood. Fantasy included Christmas Special sets for Julie Andrews and Backdrops for Diana Ross roadshows. Anything that required drawing was fair game for me. Currently, I did the first act sets for the Nutcracker which is being performed at the Marin Civic Center. Come draw with me.
For more information about Nick Cann or to view his work online go to
http://www.nickcann.com/
.